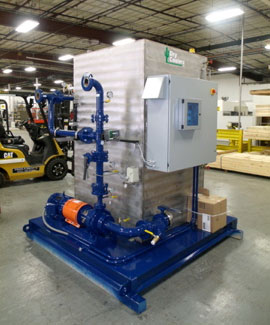 The machines that Dry Coolers manufactured this year are currently in operation all over the world working in a variety of different industries.
Arc Energy, one of our newer customers, manufactures and sells industrial sapphire growing machines. These precious stones are mainly used in the production of LEDs and other electronics. This is another industry that Dry Coolers is moving into as we continue to look for new opportunities. But just think the machines you make are being used to make high quality precious stones.
Our products, after being incorporated into Capstone's turbine power generators, were used to help provide power to hospitals, the defense department, and crucial economic centers in New York during the recent disaster following hurricane Sandy. Capstone uses our systems as part of their products, which are then distributed around the world to provide all sorts vital organizations with emergency power.
Dry Coolers machines are put into all sorts of intense environments like when we sell to Brohl, who makes heavy-duty marine equipment. The deck of a commercial shipping liner can be a terrible place for machinery, but Brohl depends on us because they know that Dry Coolers makes fail safe equipment that will continue through the toughest conditions.
Air Products, a company that specializes in providing all kinds of industrial chemicals and gasses to its customers also depends upon Dry Coolers. They trust Dry Coolers with the machinery needed to handle many of the dangerous chemicals that they work with on a daily basis.